Lector ACR122U nfc en stock, listo para enviar una vez confirmado el pedido!
Este lector ACR122U de ACR es compatible con ISO 14443 Tipo A y B, MIFARE®, FeliCa y los 4 tipos de etiquetas NFC (ISO / IEC 18092).
Con su compra del lector RFC de NFC, obtendrá un software gratuito para sus victorias o MAC.
Muy simple opere la preforma, fácil de hacer leer y escribir su etiqueta NFC con este 13.56MHZ Lector RFID.
El lector ACR122U RFID es fácil de operar pero su gran potencia lo hace popular al utilizarlo en el programa de e-Government, e-Banking, e-Payment, e-Healthcare, transporte, seguridad de red, control de acceso y lealtad, entre otros.
SunwayRFID está realizando un inventario de lectores RFID nfc, siempre listo para enviar una vez que se confirme el pedido.
Información técnica:
Dimensions
98.0 mm (L) x 65.0 mm (W) x 12.8 mm (H)
Weight
70.0 g
Compliance / Certifications
ISO 18092, ISO 14443, PC/SC, CCID, EN60950/ISO 60950, CE, FCC, MIC, KC, VCCI, RoHS 2, USB Full Speed, Microsoft® WHQL
Interface
USB Full Speed
Operating Distance
Up to 50 mm (depends on the tag type)
Supply Voltage
Regulated 5V DC
Supply Current
200mA (operating); 50mA (standby); 100mA (normal)
Operating Temperature
0-60 °C
Operating Frequency
13.56 MHz
Smart Card Interface Support

ISO14443 Type A & B
MIFARE
FeliCa
4 types of NFC (ISO/IEC18092) tags

Operating System Support

Windows®
Win CE 5.0 and 6.0
Linux®
Mac OS®
Android™ 3.1 and above
NOTAS
Los controladores ACR122U son de muy bajo nivel y requieren experiencia técnica. No hay soporte técnico disponible.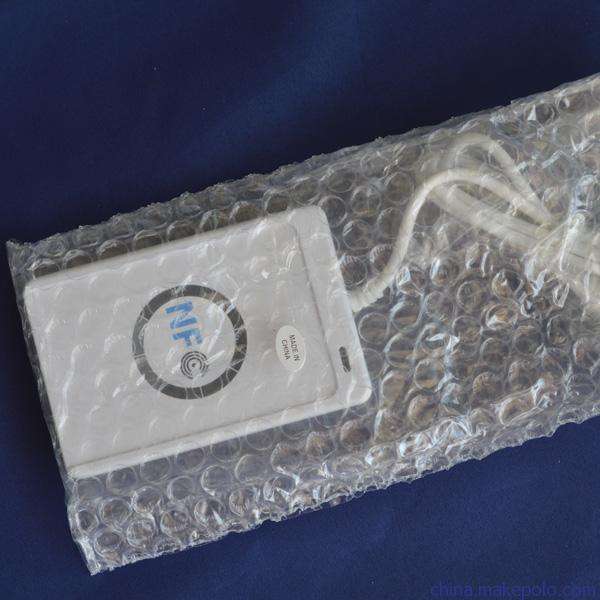 SunwayRFID ofrece tipos de pulseras RFID, pulseras NFC, etiquetas RFID, tarjetas RFID, pulseras de tela, pulseras RFID de silicona, etc.
Envíenos su solicitud de correo electrónico, ¡volverá en 24 horas!
Grupos de Producto : Lector RFID